Weight-loss op man's death due to neglect, coroner rules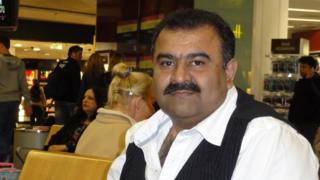 A man's death days after receiving weight loss surgery was due to neglect, a coroner has ruled.
Nadim Butt, 48, died five days after gastric bypass surgery at Royal Stoke University Hospital on 29 August 2014.
A bariatric consultant could not be contacted because the number the hospital had for his pager had been out of use since 2008, an inquest heard.
The hospital said procedures had been followed, but that access to on-call bariatric consultants must improve.
More on this and other Stoke and Staffordshire stories
'Excruciating' pain
North Staffordshire Coroner's Court heard the health of Mr Butt, a father of three from Stafford, rapidly declined after the operation.
Despite suffering from abdominal pain he was discharged from hospital on 1 September, his sister Diba Butt said.
The pain was "excruciating", so the family called for an ambulance that evening and Mr Butt was rushed back to hospital.
Ms Butt said the pain was so severe he was on all fours and calling out for help at the hospital.
Surgeons operated on Mr Butt and found he had developed an obstruction in the bowel causing it to burst and its contents leaked into his abdomen.
On 4 September, Mr Butt's health became critical as his organs began to fail and he died the following day.
Coroner Ian Smith recorded a ruling of neglect.
Ms Butt said: "He's never coming back but [the verdict] may save others from going in such a horrendous way."
Dr John Oxtoby, Medical Director of University Hospitals of North Midlands Trust, which runs Royal Stoke University Hospital, said it had carried out an investigation and found all procedures were followed in accordance to National Institute of Clinical Excellence and British Obesity and Metabolic Surgical Society recommendations.
"However, as the inquest also found, the investigation did find that access to on-call bariatric consultants needs to be improved," he said.