Stoke and Stafford hospital trust faces up to £9m fine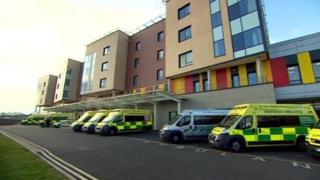 The trust which runs Royal Stoke and Stafford's County Hospitals is facing fines of up to £9m for failing to meet government targets.
University Hospital of North Midlands failed to see 95% of A&E patients within four hours last year.
Acting Chief Executive Robert Courteney-Harris said "demand has gone up".
He said "as long as these fines are reinvested in patient care, it is going round a circle".
Mr Courteney-Harris said challenges were down to the "increasing elderly population" which was "reflective of the national picture".
"It's not as straightforward as looking at the plain numbers," he said.
Increased demand
"The staff have been working tremendously hard over the last three months and sometimes they just get tired."
He admitted performance this year has been better but "not good enough".
"At the moment staff are working flat out and I have no criticism of them whatsoever," he said.
Mr Courteney-Harris said the challenges in healthcare are being felt across the country and will increase "as the population becomes more elderly".
"Our big priority in A&E is how we flow people through the system and how we get them out [of hospital]," he said.
"We need to deal with that by supporting people in their homes and getting them through the hospital quickly."
The trust is confident it will reach its target by the end of this year, he added.
"This year there have been issues around our ability to do enough work in the hospitals based on an elective basis. Its been crowded by emergency work.
"We have very clear plans going into next year."