Stoke man jailed for running over and killing man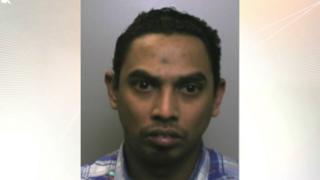 A man has been jailed for seven-and-a-half years for running over and killing another man.
Muhammed Gulam Ali, 37, pleaded guilty to the manslaughter of Matthew Hancock, and the grievous bodily harm of his friend.
He drove into both men in Newcastle-under-Lyme when they did not move out of his way, Staffordshire Police said.
Ali, of Gilman Street, Hanley, Stoke-on-Trent, was sentenced at Stafford Crown Court on Friday.
'Drove at speed'
Mr Hancock and his friend, Brent Clayton, were walking along Market Lane in Newcastle on the evening of 6 June 2015.
Ali was driving behind them in his 4x4-type car and soon began revving his engine in an apparent attempt to get them to move out of his way, Staffordshire Police said.
When they did not move aside, he drew his car close up behind them and then the vehicle shot forward and ran over both men.
He failed to stop at the scene and drove away at speed, the court heard.
Mr Clayton suffered a fractured pelvis, damage to his ribs and spine and a broken finger. Mr Hancock died at the scene.
Det Insp Andy Maxfield, from Staffordshire Police, said: "Matthew's death is a tragedy which was avoidable.
"Ali did not intend to kill Matthew or cause serious injuries to Brent but he showed no consideration that his actions may have lethal consequences.
"His behaviour cost the life of a young man and he will have to live with that on his conscience."