Stafford Global Hygiene warehouse had 'no oil permit'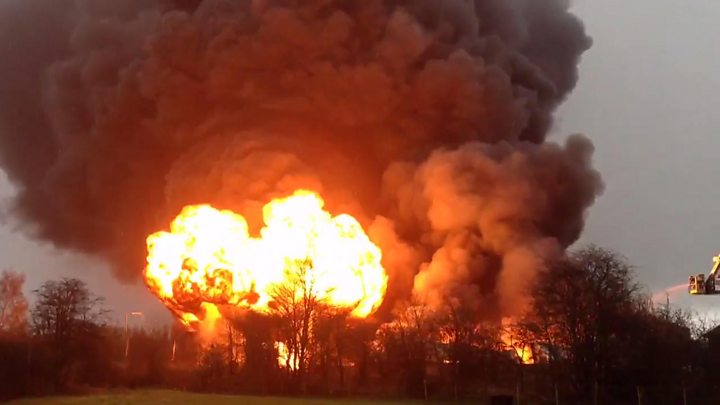 A warehouse which exploded in a blaze involving 40,000 litres of oil did not have a permit to keep large quantities of the flammable liquid on site, the Environment Agency has found.
Global Hygiene is being investigated after a huge fire at Astonfields Industrial Estate in Stafford.
Around 70 firefighters battled the blaze at its height on 2 March.
The industrial cleaning supply firm said it was co-operating fully with the investigation.
More on this story and updates from Staffordshire
No environmental permit had been registered for the site, said agency spokesman Marc Lidderth.
"We will consider what action is required after we have completed our investigative work," he added.
'Sincere apologies'
The agency is responsible for enforcing the Oil Storage Regulations throughout England.
Global Hygiene said it was "committed to compliance with all of its legal obligations".
"We have the best interests of our customers, local businesses and people at the heart of all that we do, including maintaining the highest standards of environmental care," a statement said.
"We offer our sincere apologies to all of those affected by the incident and will take all necessary steps to understand how it occurred."
One man working at the site suffered minor burns to his hands but there were no other casualties.
A number of watercourses and the Rivers Sow and Trent were polluted with oil following the fire.
The cause of the blaze is still not known.