Fundraiser Stephen Sutton's mother in charity climb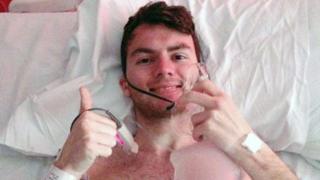 The mother of Stephen Sutton, who raised millions of pounds for the Teenager Cancer Trust before his death, is to climb Mount Kilimanjaro to continue her son's legacy.
Jane Sutton said October's challenge would raised funds for the trust, which helped Stephen with his illness.
The 19-year-old, from Burntwood, Staffordshire, wrote a "bucket list" of things he wanted to do before he died.
More than £5.5m was donated after his campaign went viral.
Stephen was diagnosed with bowel cancer at the age of 15 in 2010 and died three and a half years later, in May 2014.
A memorial service at Lichfield Cathedral was attended by more than 10,000 people and he was posthumously recognised for his fundraising, with awards including an MBE and an honorary doctorate from Coventry University.
He completed a skydive and played drums in front of 90,000 people before the Uefa Champions League final at Wembley in May 2013.
Mrs Sutton, who accepted the MBE medal on her son's behalf in November 2014, hopes to reach the summit of Kilimanjaro on 9 October.
She said: "I thought about it for all of five minutes.
"I followed Stephen's advice to seize every opportunity and take on the challenge."
Mrs Sutton has also taken up the mantle of updating Stephen's original campaign page on Facebook, Stephen's Story.
"I didn't use social media prior to Stephen passing away. If I wanted to contact a friend, I'd pick up the phone or text them.
"But the reaction to Stephen's passing was astonishing and so positive, so I felt compelled to continue his blog."