Stafford warehouse blaze 'pollutes local area with oil'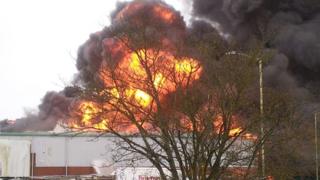 A huge blaze at an industrial cleaning company in Stafford has polluted the local area with oil, the Environment Agency said.
The fire at Global Hygiene in Astonfields Industrial Estate on Wednesday involved up to 40,000 litres of oil.
A number of watercourses and the River Sow and River Trent were affected.
An investigation into the cause of the blaze that was tackled by more than 60 firefighters is under way.
Further updates and more Staffordshire news
An Environment Agency spokesperson said: "As well as making use of booms and absorbents, we're working with contractors to remove the oil from the local brooks and have tankers at various points along these watercourses."
"We have not seen any significant decrease in oxygen levels in watercourses surrounding the incident and have had no reports of dead fish or fish in distress."
Some wildlife was seen to be in distress, which has been reported to the RSPCA.
One man working at the firm suffered minor burns to his hands but there were no other casualties, West Midlands Ambulance Service said.
Glynn Luznyj, from Staffordshire Fire and Rescue Service, said the blaze had burned for hours due to flammable substances on site.
"A ruptured gas main into the building was fuelling the fire... there was 40,000 litres of mixed oil contained in the building which was feeding the fire."
Emergency crews were able to contain the fire by Wednesday afternoon, after it was first reported by staff at about 08:45 GMT.
Two people needed emergency accommodation from Staffordshire County Council.