Dog 'cruelly' dragged by van through Stoke estate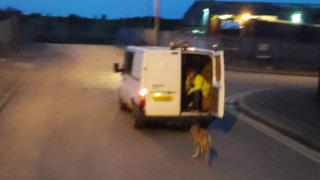 A dog was cruelly dragged behind a van three times around an industrial estate, an onlooker has claimed.
The witness took the picture showing the animal being pulled by a lead through the open door of the vehicle on Tuesday.
The tan-coloured lurcher dog was spotted in Fenton Industrial Estate, Stoke-on-Trent.
"The people inside the vehicle were laughing", said the witness. The RSPCA is appealing for information.
More on this and other Stoke and Staffordshire stories
The dog was described as "looking exhausted" during the incident in Spedding Road.
RSPCA inspector Charlotte Melvin said: "This is an appalling incident and I'd be interested to hear from anyone who might recognise the dog, the people or the van.
"These roads are tarmac surfaces and I'd imagine the dog's feet would have been a painful mess after this awful ordeal."