Six held for disorder in Meir and 'replica gun being fired'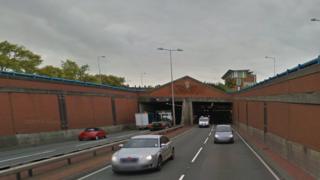 Six people have been arrested after armed police were called to reports of disorder and a weapon being discharged in Stoke-on-Trent.
Staffordshire Police also deployed its helicopter to Meir on Sunday evening.
Those arrested are aged between 12 and 19 years and from the local area.
One teenager is in hospital with a suspected broken arm, and a firearm, which is thought to be a replica, is being examined.
More updates on this and Stoke and Staffordshire.
Officers were called to the area, near the Meir tunnel on the A50, at about 18:00 GMT.
"A detailed investigation is now under way to determine exactly what happened and we want to hear from anyone with information," the force said.