Ex-Staffordshire policeman Jon King describes shooting in eye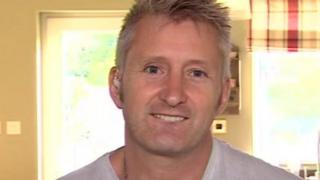 An ex-police sergeant has described the moment he was shot in the eye allegedly by a man with mental health problems.
Jon King, who has since retired from Staffordshire Police after losing his right eye, was shot with a rubber ball from a paintball gun.
Mr King told Stafford Crown Court he felt a "hammer blow to my right eye".
In a special finding of fact hearing, the jury will have to decide if Matthew Tearle, 35, shot Mr King causing grievous bodily harm in October 2014.
The jury will also decide on whether Mr Tearle had a prohibited weapon.
Mr King told the court he felt pain in a split second after he was shot.
'Blood pouring'
"Initially, I thought a door handle had sprung up and hit me in the face," he said.
"The force to my eye made me reel around."
The former officer said he "went to the floor" adding "when I put my hand up I could feel blood pouring into my hand."
Special Constable Sid Cooper told the court he could remember speaking to Sgt King in the aftermath of the incident.
He said: "I could hear him saying in the back of the ambulance 'please don't let me lose my eye'."
The court heard Mr Tearle has schizophrenia and Asperger's Syndrome and has suffered mental health problems for 20 years.
His brother Kieran Majevadia had called for help when Mr Tearle would not let him into his flat in Wat Tyler Close, Rugeley, the jury was told.
Mental health staff, police, social workers and paramedics were called to the scene.
Hours were then spent trying to persuade Mr Tearle to come out for help until it was eventually decided the door had to be broken down, the court heard.
The jury is expected to retire on Wednesday.