Plans for £470m Stoke-on-Trent City Council schemes revealed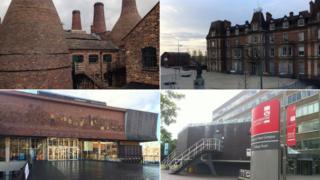 Plans to spend £473.5m on renovating and improving buildings in Stoke-on-Trent have been revealed.
About £55m will be spent on private housing, £3.4m on restoring historic buildings, £10m on infrastructure and £25m on more student accommodation.
It is anticipated more than £116m would be private sector cash, with the authority borrowing £184m.
Deputy leader Abi Brown said the authority was taking a "degree of risk" by borrowing that amount.
But the council, made up of a Conservative, UKIP, and Independent coalition, said it planned to sell or rent the new homes to bring in revenue.
'We have a choice'
It also estimates it will generate around £17.8m from selling assets over the next four years. The money for improving buildings will be spent by 2021.
More updates on this story and on Stoke and Staffordshire
"It's a balance," Ms Brown (Conservative) said. "We've looked at some of the schemes and obviously a lot of them as you will be able to see are designed to generate income for us.
"Really, as an administration we have a choice.
---
Analysis by James Bovill, BBC Radio Stoke political reporter
"Speculate to accumulate" could be the motto of this ambitious capital spending programme.
The coalition of City Independents and Conservatives say taxpayers deserve good public services, and councils will have to start raising more of their own money to deliver them.
But by borrowing £184 million to do so, they've left themselves open to accusations of irresponsible spending.
Building and selling homes and using diesel generators to sell electricity back to the National Grid are undoubtedly innovative. But the devil is in the detail, and detail here is scant.
How much money will these schemes make? We don't know yet.
Where will £116 million of private investment come from? Most of it is unaccounted for.
And isn't borrowing £184 million the antithesis of government advice that public bodies should "live within their means"?
It's a gamble the council says is worth taking. But if the income doesn't match the borrowing, it's a gamble that could backfire.
---
"We either choose to stop doing things that people tell us they don't want us to stop doing or, we can generate income ourselves and to generate income we have to, to a degree, take a risk in terms of borrowing money to achieve that."
The plans will be discussed by full council on 25 February.
The spending proposals include:
£4.5m on the Ceramic Valley Enterprise Zone
£12m refurbishment of City Central Library and Archives in Hanley
£1.9m to revamp and improve the Gladstone Pottery Museum
£1m to buy four large-scale diesel generators to help the council generate electricity for sale to the National Grid during peak demand
£884,000 grant funding towards sustainable transport schemes within the city
£14.2m for a new super depot and salt barn bringing all depots across the city onto one site and providing better storage for winter road maintenance