'Fear and intimidation' at failing Chadsmead Primary Academy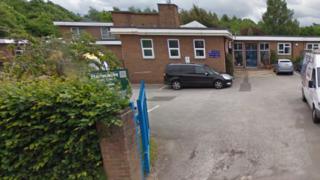 A primary school has been placed in special measures after inspectors found a culture of "fear and intimidation" among some staff, parents and pupils.
Sixteen parents have removed their children from Chadsmead Primary Academy in Lichfield since September.
The school, rated as outstanding in 2011, was inadequate in nearly all areas, Ofsted said.
Alan Evans, chair of governors, said he was "extremely disappointed" and accepted parents would be concerned.
Updates on this story and more from Staffordshire
Inspectors who visited the school in November said pupils were not completely safe due to ineffective safeguarding, there was no clear leadership and pupils' progress was falling.
The proportion of pupils who have special educational needs or disabilities at the school is well above the national average and inspectors said they were not being taught effectively.
Nearly all parents inspectors spoke to had concerns about communication from leaders, governors and temporary staff, with more than 70% saying they would not recommend the academy to another parent.
In conclusion, the report said inspectors "were of the opinion that this school requires special measures because it is failing to give its pupils an acceptable standard of education and the persons responsible for leading, managing or governing the school are not demonstrating the capacity to secure the necessary improvement in the school".
However, the school, which converted to an academy in August 2011, was commended for better progress by pupils in areas where teaching was stronger and for pupils' positive behaviour.
It was also noted that additional money to improve participation in sport had been spent effectively and the proportion of children achieving a good level of development at the end of Reception was above the national average.
In a statement, Mr Evans said the school had worked hard to address the areas of concern and would continue to do so.
Parents would now also receive regular updates on how the school was dealing with issues highlighted in the report, he said.