National Trust to take over Shugborough Estate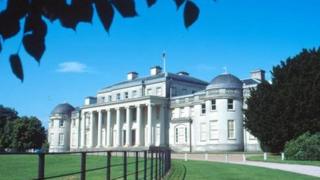 The National Trust is to take over the running of the Shugborough Estate in Staffordshire.
The estate, which includes a grade-I listed mansion house and 900 acres of land, is formerly home to Lord Lichfield and currently managed by Staffordshire County Council.
The council has leased the estate from the trust since 1966 and currently has 49 years of its lease left.
A spokesman said the time was right to hand it back, saving it £35m in costs.
More on this and other stories in Stoke and Staffordshire
The council also said the National Trust intended to invest in the property and keep it open to the public all year round.
It currently closes in winter months.
Council leader Mark Winnington said the estimated savings of £35m were after transfer costs had been deducted and the money saved would be invested in caring for vulnerable people and supporting communities.
The council will also give the National Trust £20.5m, spread evenly over three years, towards future costs of maintaining the grounds and carrying out necessary repairs.
The estate will be handed back in October.
A National Trust spokesman said: "By taking back the management of Shugborough we would be able to guarantee the future opening and upkeep of the estate, as well as attracting more visitors to what is one of the few remaining complete working estates in the country and a jewel in Staffordshire's crown."
Shugborough was one of the manors of the bishops of Lichfield in the Middle Ages. The site was purchased in 1624 by William Anson, a lawyer. The current house dates back to 1694.
It was once the home of photographer Lord Lichfield, the 5th Earl of Lichfield, who was a cousin of the Queen, and who died in 2005.