'Low sun' reflecting off mirrors sparks Staffordshire fires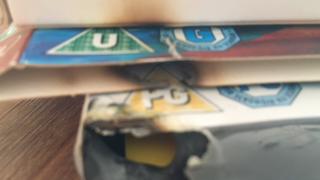 Sunlight reflecting off mirrors sparked two blazes in two days at homes in Staffordshire, firefighters said.
Curtains caught light at a house in Fazeley, Tamworth, on Thursday. A man in his eighties had a minor burn to his wrist after putting out the flames.
A pile of DVDs caught fire at a house in Huntsmans Hill in Upper Longdon, Rugeley, on Friday.
Staffordshire Fire Service said it was quite rare to get such incidents and it may be that the sun is low in the sky.
The service warned home owners not to place reflective surfaces in direct sunlight.
More on this and others in Stoke and Staffordshire
Watch Manager Rob Horton said: "Special care should be taken with convex and concave shaving or make-up mirrors which can magnify the sun's rays onto combustible items such as curtains or bedding, causing them to ignite."