Flash Ley Primary School closed until Easter due to formaldehyde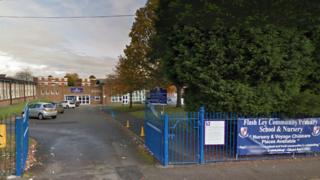 A school will remain closed until Easter after high levels of formaldehyde were found there.
Flash Ley Primary School, in Stafford, was due to reopen after Christmas, but continuing investigations into the presence of the chemical mean it will remain closed next term.
It shut on 7 October after a mystery smell made about 20 children ill.
Public Health England has said pupils and staff are unlikely to have suffered any long-term health problems.
Updates on this story and more from Staffordshire
Staffordshire County Council has written to parents to say officers are doing everything they can to bring children and staff back together in their local community.
Children will continue to be educated at the nearby Chetwynd Centre, Tillington Manor Primary and Stafford Manor High when the new school term starts in January.
Ben Adams, from the council, said: "The last two months have been challenging for staff, parents and pupils, but we need to make sure all the issues have been addressed effectively before we can put a long-term plan in place."
According to Public Health England, formaldehyde is a colourless, corrosive, flammable gas with a pungent, suffocating smell.
It can come from natural or industrial sources and is used in some furnishings and building materials such as plywood, carpeting, foam insulation and as paper and textile finishing treatments.
In humans it can lead to irritation of the nose, mouth and throat, breathing problems and stinging eyes.