Staffordshire Special Adventure Playground under threat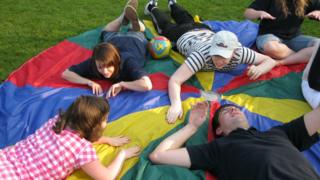 An activity centre for disabled children could be forced to close at the end of the year if annual running costs of £180,000 cannot be raised.
The Special Adventure Playground, in Newcastle under Lyme, was set up in 1984 to provide support and respite to children with learning difficulties.
A spokeswoman said the charity was in a "precarious situation" after government funding was cut and competition for other income was "very fierce".
A consultation with staff is under way.
Updates on this story and others from Staffordshire
The centre is a purpose-built complex with indoor and outdoor facilities including a soft-play room, bicycle tracks and a nature garden with pond.
Trustee Elizabeth Shenton and CEO Fiona Clark issued a statement to say: "The playground has been struggling financially for some time and it has become apparent to the trustees that running the playground in the current way is no longer viable.
"As a result, the trustees are having to consider closing the playground at the end of December.
"The staff and trustees are working very hard to look at options that would enable the playground to stay open and continue to provide a service to children and families."