New inquest call over Stafford Hospital toddler death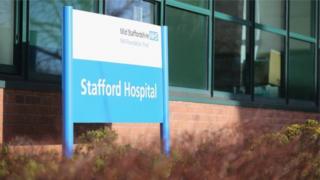 An independent review into the death of a toddler at Stafford Hospital has called for a new inquest to be opened.
Three-year-old Jonnie Meek, from Cannock, died while being fed via his stomach in August 2014.
A coroner recorded he died from natural causes.
But Jonnie's parents have always said their son, who had a rare genetic condition, suffered an allergic reaction to a type of milk which had made him ill on previous occasions.
Updates on this story and more from Staffordshire
The doctor in charge of the review heard that when nurses changed the type of milk formula in Jonnie's system, his health deteriorated.
The boy developed a rash on his skin, low pulse and breathing problems.
The report does not provide medical proof of the allergy but recommends a new inquest should be opened to re-examine the evidence.
Dr Martin Farrier, who carried out the review, made a formal apology to the family in the report over the 15 months it took for their questions and concerns to be answered.
He said the Mid Staffordshire NHS Trust offered a "poor" response to Jonnie's family and concluded "there is little evidence of the open culture that is aspired to by the NHS".