Sir Stanley Matthews sports centre reopened by his daughter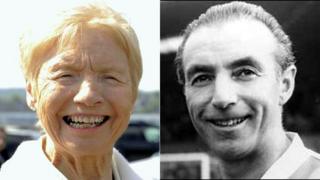 The daughter of football legend Sir Stanley Matthews has officially reopened a sports centre named in honour of her father.
The Sir Stanley Matthews sports centre, on the campus of Staffordshire University in Stoke-on-Trent, has undergone a £1.25m refurbishment.
Jean Gough cut the ribbon and said she was proud of her father's legacy.
Sir Stanley was the first professional footballer to be knighted, and was also capped for England 84 times.
Known as the Wizard of Dribble, his professional career covered 33 years during which he made nearly 700 League appearances for Stoke City and Blackpool.
Mrs Gough said: "The centre is providing another opportunity for people to get involved with sport, and the world of sport is incredible for preparing us and our young people for life."
Had he been alive, her father would now be aged 100.