Staffordshire's Cannock Chase could be run privately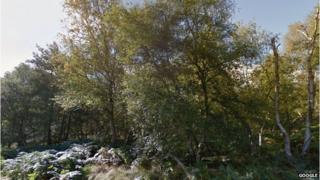 Parks in Staffordshire could be run privately in one of a number of options being considered by the county council.
Campaigners, who battled to save parts of Cannock Chase Country Park from a government sell-off in 2011, said they were "concerned" about the proposals.
The council said Cannock Chase was "not for sale" but management of the land could transfer to a company or agency.
A cabinet member said the council's job was to "look after vulnerable people, not... places like Cannock Chase".
'Maximise profit'
The authority has been consulting since December over 10 options regarding the future of its parks.
These include transferring the running of the sites to a private company or agency or maximising income, "by renting land for industrial development like wind turbines or timber production".
The Conservative-run authority could also sell sites with "limited potential", such as Fair Oak Park, on the open market.
Parks campaigner Mark Davis said: "It may not be a sell-off, but the other options hold a lot of concern for us.
"If Cannock Chase is managed by a private company, the county will have very limited powers.
"We have to be really careful we don't go down a road that says, let's maximise the profit."
The council has said it needs to make savings of £109m.
In December it called on the National Trust to take Shugborough Estate off its hands, which it runs on a 99-year lease.
Mark Winnington, cabinet member for the economy , environment and transport, said: "We want to get the best deal for Staffordshire people. Cannock Chase is an important asset and there are no plans to sell it.
"Most of the countryside is run by the private sector. It's not always bad to let somebody else look after things.
"Our job is to look after vulnerable people, not to look after places like Shugborough and Cannock Chase."
Sue Woodward, deputy leader of the Labour opposition, said there would be an outcry if the parks were sold off but she believed the preferred option was to develop partnerships to help run the sites.
"Of course Staffordshire has an important responsibility to ensure vulnerable people are cared for, but that is not the sole reason for a council's existence," she said. "You can't pitch one service against another."