Harassed autism campaigner Kevin Healey quits Twitter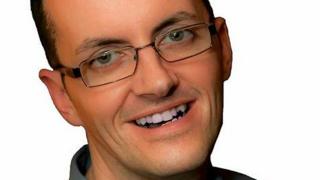 An autism campaigner says he has quit Twitter because he does not feel safe from impersonators.
Kevin Healey, 40, a trustee of the National Autism Society, said people had faked his account and abused him.
He said he was angry that Twitter would not verify his account, which he feels would give him some protection as people can see which account is real.
A Twitter spokesman said it was unable to comment on individual users for privacy and security reasons.
'Sick of impersonations'
Mr Healey, from Newcastle-under-Lyme in Staffordshire, who had 130,000 followers, said he had been told he does not meet Twitter's eligibility criteria.
Twitter says it verifies accounts of "highly sought users in music, acting, fashion, government, politics, religion, journalism, media, sports, business, and other key interest areas".
About 1,600 people have signed a petition backing his request.
He said he had been receiving abuse for about two years and has reported it to Twitter and police. Some people have been warned and others had accounts suspended, he said.
Staffordshire Police has investigated 13 incidents of people impersonating him but has been unable to locate those responsible, Mr Healey said.
The force said it had been in regular contact with the victim following his complaint about online harassment last January and is pursuing lines of enquiry.
"I help people get the help they need but the things people have been saying to me have been horrific.
"I'm suffering from stress... I don't feel safe."
He said his Facebook profile has been verified - given a blue tick proving the account is genuine - and he will not return to Twitter until the same thing happens.
Earlier this month, Twitter's chief executive promised tough action to deal with abusers after admitting the company "sucks" when it comes to dealing with abuse and trolling.