Shenstone factory rooftop protest charges dropped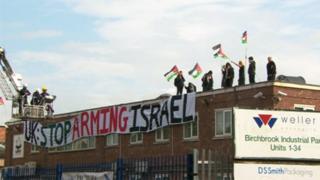 The case against nine people involved in a two-day protest at a factory that produces engines for drone aircraft has been dropped, the Crown Prosecution Service (CPS) has said.
Members of the London Palestine Action group climbed on to the roof of UAV Engines Ltd in Shenstone, Staffordshire in August, forcing the plant's closure.
Four men and five women men were charged with aggravated trespass.
The CPS said two prosecution witnesses were no longer prepared to appear.
"Without the two witnesses, whom we had anticipated being available to us at the point of charge, we deemed that there was no longer a realistic prospect of conviction and were left with no option but to discontinue the case," a spokesman said.
The agency also said documentation from the complainant, required by the court for potential disclosure to the defence, had not been provided.
The nine people were protesting against UK arms sales to Israel.
All had pleaded not guilty to the charge.
UAV produces engines for unmanned aerial vehicles.