Ben Baddeley: Appeal to fund physiotherapy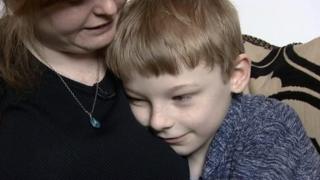 The parents of a Staffordshire boy who underwent a life-changing operation have said they need to raise £16,000 to fund his physiotherapy.
Nine-year-old Ben Baddeley, from Silverdale, has cerebral palsy.
An operation carried out in July to enable him to walk more easily was paid for by an anonymous donor after NHS funding was withdrawn.
His mother Amy said: "The better Ben gets the more physiotherapy he needs and the more money we need."
She said Ben now needs after care three times a week, with each hour-long session costing £150.
The three-hour selective dorsal rhizotomy (SDR) operation was conducted at Nottingham's Queen's Medical Centre.
The procedure involves accessing nerves in the spinal chord to reduce tightness in muscles in the lower limbs.
NHS England said it had not routinely funded SDR since April 2013.
Mrs Baddeley said the family had been told because they funded the operation privately they must also pay for the aftercare.
The donor who paid for the operation wished to remain anonymous in public, but has made his identity known to the family, after initially contacting them by email.
Mrs Baddeley said he was a successful businessman and grandfather-of-five.
Ben said he was hoping to be able to ride a bicycle he was bought for Christmas.
"I've never ridden a bike before - I'm really excited," he said.