Snow and high winds on A53 in Staffordshire bring road 'chaos'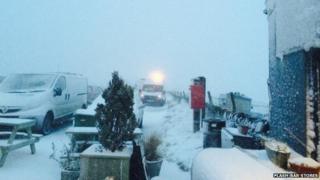 Snow and high winds have brought "chaos" on a major road between Staffordshire and Derbyshire.
Snow began falling overnight on the A53 Leek to Buxton Road, according to Lynsay Speed, the owner of Flash Bar Stores in Quarnford.
"It's chaos. It's snowing but it is also very windy which is causing problems for lorries. We've also had a car skid onto the verge," she said.
The village claims to be the highest in England at 1518ft (463m).
The county council said there had been snow showers on the ground above 1000ft (305m) of the Staffordshire Moorlands.
Mark Deaville, from Staffordshire County Council, said: "Our gritting teams were out last night and again this morning treating the roads and we are advising motorists to take extra care especially if travelling on the A53 in particular."