Stephen Sutton: Yellow ribbons again in home town of Burntwood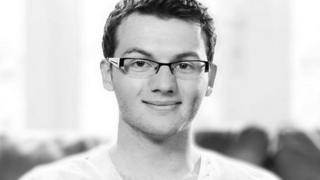 People are being urged to buy yellow ribbons for a town's Christmas tree in memory of Stephen Sutton, the teenager who raised millions for a cancer charity while dying of the disease.
The ribbons had appeared in his home town of Burntwood, Staffordshire after the 19-year-old died in May.
Money from the sales will go to the Teenage Cancer Trust, which Stephen raised more than £5m for.
His mother, Jane Sutton, switched on the town's Christmas lights earlier.
'Wonderful gesture'
In May, Amanda Mayling, from Burntwood, came up with the yellow ribbons idea and promoted it on social media.
She said she felt inspired to do something in Stephen's memory, after meeting him at fundraising events.
The ribbons were put on doors and cars and spread beyond Burntwood to other towns.
Teenage Cancer Trust supporter Joanne Jarvis, who has been involved in the Christmas tree ribbons fundraising scheme, said the idea came from Facebook.
She said: "Lots of people were commenting on how sad they were to see the yellow ribbons being taken down and a comment was made about bringing them back for Christmas, so I took the idea and ran with it.
"I thought a big bright yellow beautiful tree would be a wonderful gesture to the Burntwood hero."
Ribbons have been on sale at various locations including the town council offices.
Earlier this month, Stephen's mother accepted an MBE on his behalf from the Queen.