Joseph Moscicki jailed for Christmas murder of James Smith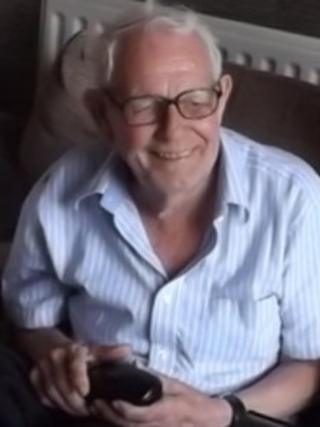 A man has been jailed for life after hitting an 83-year-old with a van before dragging his body along the road.
Bernard James Smith was found on the Highfields estate in Stafford in the early hours of Christmas Day last year.
A post-mortem examination revealed he died as a result of multiple chest injuries.
Joseph Moscicki, 23, was convicted of murder and told he would serve at least 21 years in prison.
It followed a five-week trial at Wolverhampton Crown Court.
Staffordshire Police said Mr Smith, known locally as Jim, had been returning home after an evening out at a nearby social club.
He was hit by a van driven by Moscicki, who then drove away, dragging Mr Smith's body along with him, police said.
The force said he then ran over the 83-year-old a second time, killing him, before fleeing the scene.
Moscicki, of Gorse Ride North, Wokingham, was arrested shortly afterwards.
Det Ch Insp Darren Harding said: "The death of any person in such circumstances is always deeply tragic, but at Christmas time it seems especially worse."
In a statement, Mr Smith's family said: "Words cannot express the pain and anguish our family and friends have suffered since the brutal and tragic death of uncle Jim.
"We have sat in court and listened and cried at the horrific injuries he suffered and the image of him lying there on his own is too much to bear."