Staffordshire Police officer handed warning for 'knock-out' threat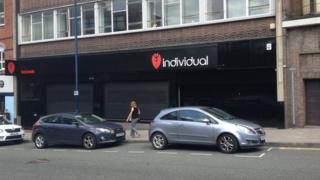 A police officer has been given a formal warning after a video posted online showed him threatening to "knock out" a woman in Stoke-on-Trent.
He was among a number of officers called to the Individual Bar in Trinity Street at about 02:00 BST on 20 July, after reports of disorder.
A video of him threatening a woman was later posted online.
Staffordshire Police said a misconduct hearing found he had fallen "below the standards expected".
Two allegations of assault and a claim the officer lied to justify the comments he made were dismissed by the hearing after reviewing CCTV footage and other evidence.
But a fourth complaint accusing him of using threatening language was upheld.
The officer has now returned to work, but would be closely monitored, the force said.
The Police and Crime Commissioner's Ethics, Transparency and Audit panel is due to publish its own report on the incident.