Fenton Town Hall protesters served eviction notice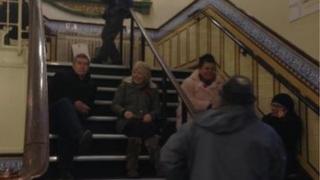 Campaigners who have been occupying a former town hall and magistrates' court in Stoke-on-Trent for the past 16 days have been served an eviction notice.
About 30 people moved into Fenton Town Hall on 9 November angry at plans to sell the building which closed in 2012.
The protestors went inside when it was opened up for a Remembrance service and refused to leave.
A Ministry of Justice (MoJ) spokesperson confirmed "the occupiers" had been given notice to vacate.
Campaigner Cheryl Gerrard said a "quite shoddy" photocopied letter was put on the door on Monday evening.
It advised those inside the hall to leave by 17:00 GMT on Tuesday.
But she said they were determined to stay and they have remained inside past the deadline.
"We're not moving," she said.
"Even if somebody did turn up, they have no court order in which to take us out of the building.
"We are taking legal advice and we are staying and we will wait for the next move from them."
The building closed as part of government plans to shut 93 courts across England and Wales in a bid to save £41m.
Campaigners have said the group's proposals to regenerate the building, first suggested two years ago, were being largely ignored.
Mrs Gerrard said they have been communicating with the MoJ via community charity Urban Vision, which has been working on a proposal for a Community Asset Transfer of the town hall.
"The significance of the building seems to completely lost on them," she said.
The building was opened up on 9 November so people could see the Great War Memorial which contains 498 names on Minton tiles.
The Victorian Society said the building, which dates from 1886, was one of its most endangered buildings in 2013.
In a statement, the MoJ said: "The occupiers of the former Stoke-on-Trent Magistrates' Court have been given notice to vacate."