Homeless charity House of Bread seeks new home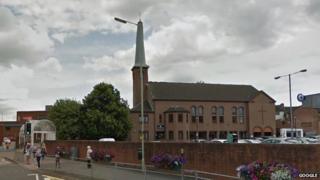 A homelessness charity in Stafford is seeking a new base to work from.
The House of Bread said the end of an agreement with the Trinity Church, its home for the last two years, means it is due to move out next week.
The charity said it regularly feeds 100 people at its weekly drop-in service and vowed to continue to do so.
A last-minute offer from Stafford College looked to have fallen through, it added.
'Growing need'
Director William Morris said the charity was ultimately hoping to buy its own base which could provide a cafe and other resources for homeless people in the town.
In the mean time, he said it was struggling to find a temporary home, while there was a "growing need" for its work in the town.
"We would go away tomorrow if nobody turned up," he said
"It's distressing that people haven't offered help, but we've got 220 volunteers on our books, so Stafford has still embraced us.
"A base in the town centre is crucial, because people who are homeless gravitate there.
"In the meantime, if we have to operate out of the back of a car in a car park we'll do that."
The House of Bread provides a Wednesday night drop-in alongside satellite work in other parts of Stafford during the week.