Health group told to stay out of HS2 debate by Cheshire East Council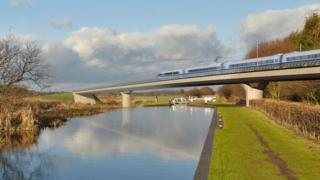 A major health promotion body has been told not to interfere in a tussle between two councils about which should get an HS2 link.
Public Health England believes the proposed north-south rail link would have more benefits if it went to Stoke-on-Trent rather than Crewe, as is currently planned.
The body believes the line would help address Stoke's "deprivation".
But Cheshire East Council accused it of "playing politics".
'Undermine recommendations'
In a letter written to Patrick McLoughlin, Secretary of State for Transport, Professor John Newton, the body's chief knowledge officer, said routing HS2 through a station in Stoke-on-Trent would boost health benefits more than going through Crewe, Cheshire.
He said East Cheshire was already a wealthy and healthy area while Stoke has high levels of health deprivation.
"Of the two towns it would seem... Stoke is much more likely to benefit from any health improvements driven by regeneration compared with Crewe," he said.
"In summary it would seem HS2 could provide a rare opportunity to tackle some otherwise intractable health inequalities in North Staffordshire."
Labour-run Stoke-on-Trent City Council welcomed the comments.
Deputy leader Gwen Hassall said if HS2 was about maximising the economic benefits to the nation, then the Stoke route was "a clear winner".
The authority has been locked in a dispute with Conservative-run Cheshire East Council over the link.
A recommendation to use Crewe was confirmed in a report by HS2 boss Sir David Higgins on Monday.
A final decision will be made by the government next year.
Councillor Michael Jones, leader of Cheshire East, said: "Public Health England are playing politics and clearly know little about the benefits and impact of HS2 to the wider region.
"I will write to the Health Secretary Jeremy Hunt to let him know Public Health England is trying to undermine the recommendations of Sir David Higgins and they should not interfere."