Newcastle Council land sale to raise money to support services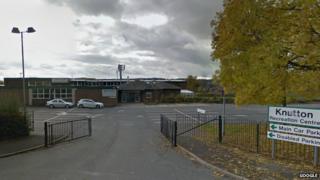 A number of sites have been offered for sale by a Staffordshire council to raise money to "support vital public services".
Newcastle-under-Lyme Borough Council said it hoped to raise "in the region of £7.7m" through the sales.
The sites being sold off include the former Jubilee baths and the former St. Giles' and St. George's School.
The council said it has "no capital money" to replace equipment and carry out maintenance commitments.
The pieces of land offered for sale "no longer serve any strategic or operational purpose", the council said.
The authority's assets include 1,800 acres of land and 120 freehold buildings.
Sites for sale
Ryecroft in Newcastle
The former Jubilee baths site
The former St.Giles' and St. George's School
Knutton Recreation Centre
Land at Sandy Lane/Brampton Road, May Bank, Market Drayton Road, Loggerheads and Eccleshall Road, Loggerheads