Staffordshire University stolen laptop had student contacts details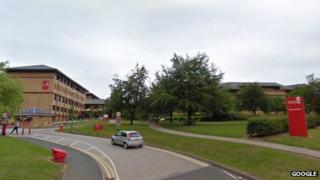 A laptop containing the personal details of 125,000 potential and current students at Staffordshire University has been stolen.
A member of staff took the computer home where it was stolen from a car.
The data included the address, telephone number and email details for applicants dating back to 2006.
The university said the files are password protected. It has written to those affected to "apologise for any concern" caused.
'Not much comfort'
The theft, which occurred on 13 October, was reported to the police and the Information Commissioner's Office was notified about the loss of personal information, the university said.
Bernard Shaw, director of information services at the university, said the theft left the establishment in "a difficult position".
"We are fairly certain the laptop wasn't taken to access the information because of the way the theft took place. That's some comfort, but not much comfort to the people who are concerned," he said.
The university said it has carried out a review of security and will be doing "essential training" to ensure all staff are aware of their data protection responsibilities.