Stafford fireworks blaze: Post-mortem 'inconclusive'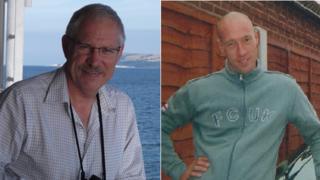 The cause of deaths of two men killed in a huge blaze at a fireworks warehouse is unknown, an inquest has heard.
The fire ripped through SP Plastics on the Baswich industrial estate in Stafford on 30 October.
The bodies of Simon Hillier, 41, and 57-year-old Stewart Staples, had to be identified by DNA testing.
A pathologist told South Staffordshire Coroner's Court that post-mortem examinations were "inconclusive".
Investigators believe Mr Hillier was working at the site, while it is thought Mr Staples was a customer.
In statements issued earlier this month, Mr Hillier was described by his family as a "fantastic" son and brother and a "terrific" father, while relatives of Mr Staples said he was a devoted family man.
Other firms based at the business park have now returned.
Staffordshire Police confirmed last week that fireworks sold at the warehouse are set to be inspected by safety experts.
The inquests have been adjourned until 27 April next year.