Stephen Sutton's mother collects MBE on his behalf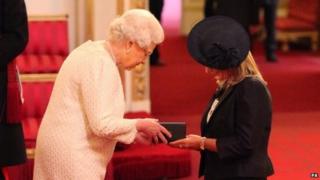 The mother of teenage cancer fundraiser Stephen Sutton has received a posthumous MBE on her son's behalf.
Stephen, from Burntwood, raised more than £5m for the Teenage Cancer Trust, posting on Facebook and Twitter so people could follow his journey.
The 19-year-old's mother Jane accepted the award at Buckingham Palace earlier.
Stephen, who died of cancer in May, will also be posthumously awarded an honorary doctorate of science by Coventry University next week.
It comes after the Teenage Cancer Trust revealed £1.2m of the funds Stephen raised would be used to create 50 scholarships at the university to train people in cancer care.
'So proud'
He was told just days before he died that he would be included on the Queen's Birthday Honours list.
His mother Jane said: "I'm feeling so proud to be collecting the award on behalf of Stephen but obviously wish he had been here to collect it himself.
"But it's just so nice that he knew about this award before he passed away, I'm so pleased about that.
"When he found out about it he did use the word awesome, he thought it was awesome.
"I remember he was in the hospital bed and he had a big smile on his face.
"He knew how important this was and how high an honour this was."
Mrs Sutton said the Queen was "very impressed" with the amount of money her son had raised and told her she must be very proud.
The teenager drew up a bucket list of 46 things to do before he died, including playing drums at a Wembley cup final, getting a tattoo, skydiving and raising £100,000 money for charity - an amount he quickly eclipsed.