Protesters to remain at former Fenton Town Hall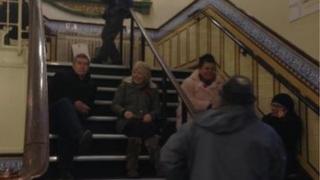 Campaigners occupying a former town hall and magistrates' court in Stoke-on-Trent have said they will remain "as long as it takes".
About 30 people moved into Fenton Town Hall at 13:30 GMT on Sunday, protesting about plans to sell the building.
It closed in 2012 as part of government plans to shut 93 courts across England and Wales in a bid to save £41m.
Campaigner Alan Gerrard said the group's proposals to regenerate the building were being largely ignored.
He called on Justice Secretary Chris Grayling to come to Fenton and see the building along with the campaigners' plans.
Mr Gerrard said they had enjoyed a "comfortable" night at the hall and were not planning to move.
The building, which dates from 1886, had been opened up after Remembrance Sunday services to allow people to view a memorial honouring those who died during the two world wars.
Protesters say the memorial is at risk if the building it sold.
However, the government said "a legal covenant" meant any buyer would have a duty to preserve it.
"We've put forward a proposal to the Ministry of Justice (MOJ) to regenerate a town that's dying on its feet," Mr Gerrard said.
"It could bring back jobs, growth to a town that's got no library, no bank, having a really bad time."
Mr Gerrard said he would like to see the building restored to its pre-1960s state, removing the courtrooms and turning it into a theatre, with restaurant and bar, along with offices to allow local businesses to contribute rent.
The MOJ said it had a duty to ensure best value for taxpayers.
An MOJ spokesman said: "We are aware of the issue at the court. We understand the police are in attendance and the protest will be a matter for them."