Staffordshire Police officer shot in eye is blind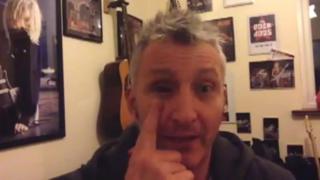 A police officer who was shot in the eye last month while helping ambulance staff deal with an aggressive patient says he has gone blind.
Sgt Jon King, from Staffordshire Police, said a rubber bullet from a gas-powered handgun was fired into his right eye and "smashed" his eyeball.
A second bullet went across his left eye, temporarily damaging his sight.
A 34-year-old man was arrested under the Mental Health Act after the incident in Rugeley on 19 October.
'Things just happen'
Police received a call from a crew in Wat Tyler Close requesting assistance.
During the incident, a man fired what police said they suspected was an air rifle.
Mr King said, despite surgery, he was now blind in his right eye.
He has decided to have a prosthetic eye and has started a video blog as he receives the treatment.
"I think I'm having a prosthetic eye but what I want to do is just post some videos up as we go along," he said.
"I've got an appointment in two weeks with the plastics team and they're going to see what they can do for me."
He said that after 26 years service with the force "these sort of things just happen".