Firm drops Hopwas Wood quarry plan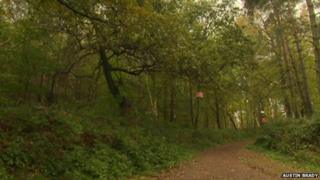 Plans to turn an area of ancient woodland mentioned in the Domesday Book into a quarry have been dropped.
Lafarge Tarmac said the quarry would cover only a fifth of Hopwas Wood near Tamworth but confirmed it had now withdrawn the plans.
The Woodland Trust said it was delighted at the decision.
It had said the plans were the "largest threat to a single ancient woodland site in England that the charity has seen in its 42-year history".
'Work in harmony'
Such historical woodland covered only 2% of Britain, Austin Brady from the charity said.
The plans for the 76-acre site (31 hectares) were submitted to the county council as part of a Minerals Local Plan, which covers the period until 2030.
Stuart Wykes, a director at Lafarge Tarmac said: "We pride ourselves on working in harmony with local communities and want to do so at Hopwas.
"We want to work with local stakeholders on the stewardship of Hopwas Woods and we are willing to fund an independent study on its long term sustainability.
"This could include issues such as public access and environmental protection."