Four injured as car becomes trapped beneath lorry in M6 crash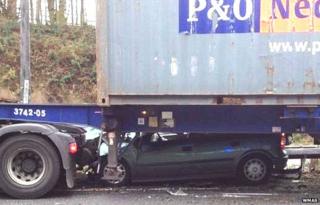 Four people, including two children, have been injured in a crash on the M6 near Keele, Staffordshire, after their car became trapped beneath a lorry.
Two girls, aged between eight and 10, were treated for facial injuries and multiple minor injuries, West Midlands Ambulance Service said.
A man and a woman travelling in the front of the car suffered chest, pelvic and arm injuries.
It happened on Wednesday afternoon on the southbound carriageway near J15.
All four people were transferred to University Hospital North Staffordshire for further emergency treatment.
"Considering the damage to the vehicle they are extremely fortunate not to have suffered more severe or even fatal injuries," an ambulance service spokesman said.