'Nello' Baldwin and Gordon Banks get freedom of Stoke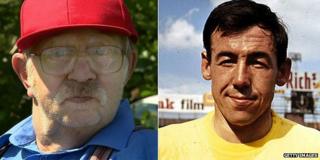 Two Stoke City FC legends are to be awarded the freedom of Stoke-on-Trent.
Proposals to confer the honour on 1966 World Cup-winning goalkeeper Gordon Banks and kit man and mascot Neil 'Nello' Baldwin have been approved at a city council meeting.
Banks was capped 73 times, spent five seasons with the club and still lives locally.
Mr Baldwin, who has learning difficulties, was the subject of a BBC film, Marvellous, documenting his life.
A life-long fan of Stoke City FC, he became a team mascot and kit man when the then-manager, Lou Macari, met him and decided he would cheer up the dressing room.
The freedoms of the city will be awarded at a date to be set.