HS2 route plans 'changed' in area near Lichfield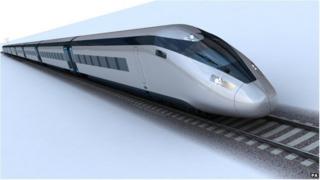 Plans for the HS2 rail line route in Staffordshire have changed, the company responsible for the project said.
It has now been proposed to go under the A38, the West Coast Main Line and the South Staffordshire line, rather than run over them on viaducts near Lichfield, HS2 Ltd said.
Two planned crossings over the Trent and Mersey Canal have been scrapped.
The impact on the landscape would be reduced, the company said.
Transport Secretary Patrick McLoughlin had proposed the changes, which reflected what many residents and stakeholders requested, it added.
HS2 Ltd said the changes would reduce the size of embankments in the area, as a result of work involving itself and Staffordshire County Council.
The council's cabinet member for economy, environment and transport, Mark Winnington, said: "Although we are opposed to HS2, from the outset we have put all our efforts into getting the best deal we can for Staffordshire and its people."
Mr McLoughlin said: "I am delighted that through partnership working with Staffordshire County Council we have been able to find an engineering solution that reduces HS2's impact on the area."