Stafford Hospital likely to become The County Hospital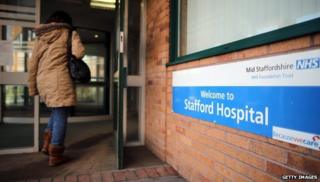 Stafford Hospital is likely to be renamed The County Hospital, the BBC understands.
The name is believed to be the front runner out of four proposed by staff in May - the others being Coton Hill, Weston Road and Izaak Walton.
Mid Staffordshire NHS Foundation Trust is due to be dissolved in November.
The hospital was at the centre of a £6m public inquiry into failings in care between 2005 and 2009.
Bosses at University Hospital of North Staffordshire, which is due to take control of Stafford Hospital, revealed in February plans for a new identity.
A trust spokesman said: "The trust will make an announcement on the renaming of the hospital when the plans for the transition of services are released later this month."