Wedgwood Museum appeal raises £700,000 in two weeks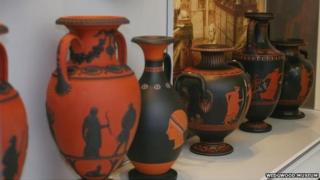 A public appeal launched to save the Wedgwood Museum pottery collection has raised £700,000 in its first two weeks.
The collection is being sold to pay off the ceramics firm's pension bill.
The museum in Stoke-on-Trent went into administration in 2010 after the firm collapsed and its £134m pension debts were transferred to the museum trust.
The Art Fund, which has said it needed to raise £2.7m by 30 November, said 4,000 members of public had raised money over a fortnight.
It has said it has secured about £13m from the Heritage Lottery Fund, but needed the further £2.7m and feared the collection would be split up if it went to auction.
The Art Fund said although it had "some way to go" to reach its target, the early signs were "hugely promising".
'Hugely promising'
The collection has 80,000 works of art, ceramics and pattern books, covering 250 years of history.
Waterford Wedgwood Plc collapsed in January 2009 and its pensions liability of about 8,000 former Wedgwood workers was transferred to the museum.
The museum then went into administration in 2010.
Although the pension debt was paid by the Pension Protection Fund (PPF), a high court judge ruled in 2011 that the £15m worth collection could be sold to reimburse it.
The Art Fund has said it planned to lease the collection to the Victoria and Albert Museum (V&A) in London, if its bid was successful.
The V&A would then loan it to WWRD, the firm that now manufactures and sells the Wedgwood brand, for display at the Wedgwood Museum in Barlaston.