Staffordshire children's centres could be cut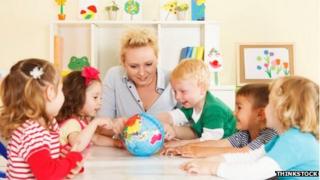 More than 40 children's centres could close as part of a review of support for vulnerable families in Staffordshire.
The proposals would see the number of centres cut from 54 to just 10.
Staffordshire County Council said it would instead work more closely with schools and other bodies to target vulnerable children.
Paul Farrelly, Labour MP for Newcastle-under-Lyme, criticised the plans, saying they were "all about cuts".
"Early intervention for under fives in areas of deprivation improves children's life chances. And yet they're cutting these centres now... in areas that have the biggest need," he said.
Mr Farrelly said the plans were part of a "familiar scorched earth policy that's already hit libraries, youth clubs, learning disabilities and special needs".
The Conservative-led council said the proposals were expected to save £3m over two years, but were intended to improve support for the most vulnerable children.
Mike Lawrence, cabinet member responsible for children and communities, said: "It's [currently] not working. We're only attracting 25% of young families and parents - and of that only 25% are from the deprived families that need the extra support.
"The first five years are vital for a child, but only 54% of Staffordshire children are judged to have reached a good stage of development by the end of their first year at school.
"We must narrow that gap."
Jeremy Lefroy, Conservative MP for Stafford, said he "welcomed" plans to work more closely with schools.
However, he said he had "concerns" for those children's centres, such as one recently refurbished in Stafford, that were not based within a school and might be put to another use.
A consultation on the plans is expected to start next month.