Peter Davegun murder: Samantha Adeokun jailed for life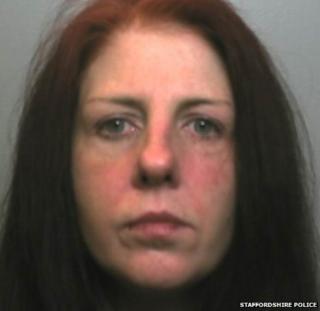 A woman who claimed she accidentally killed her partner during an argument has been jailed for life.
Samantha Adeokun, 41, told Stafford Crown Court Peter Davegun, 42, fell and hit his head after she pushed him.
But jurors found her guilty of murdering Mr Davegun at his flat in Hartshill, Stoke-on-Trent, in December.
Adeokun, of Albert Street, Silverdale, was told she must serve a minimum of 18 years in prison.
Staffordshire Police said Adeokun called an ambulance at about 14:55 GMT on 23 December.
'Severe beating'
They said she told paramedics, who confirmed Mr Davegun was dead at the scene, he had hit his head on a metal TV stand.
But post-mortem tests found a "significant blunt force assault to his head, face, back and upper limbs" had led to his death.
Pathologists also found an "an implement had been used for at least part of the assault", police said.
Det Insp Glyn Pattinson said it was clear Mr Davegun had suffered a "severe beating".
Adeokun, he said, "tried to portray herself as a victim in this case".
"However, her story unravelled as she tried to lie her way out of things and she has been caught out and shown for the violent person she really is," he added.
In a statement, Mr Davegun's family said his death was a "great loss".
"He was a kind gentle man, who cared deeply about his family and his music," they said.