Lee Rigby remembered at National Memorial Arboretum service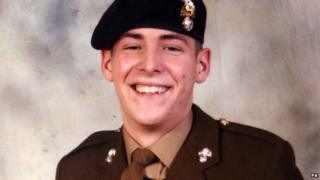 Fusilier Lee Rigby is one of 17 British servicemen and women who have been remembered in a special service.
The soldier was murdered by two men outside Woolwich barracks last year.
The annual service at the National Memorial Arboretum, in Alrewas, commemorates all service personnel who have died on active service or through acts of terrorism in the previous year.
Wreaths were laid by some of the 180 family members who attended the service, which began at midday.
The names of three SAS soldiers who died on a training exercise on the Brecon Beacons in July 2013, and two RAF officers who died in an avalanche on the Cairngorms in February 2013 were also read out.