Downgrade 'by March' for Stafford Hospital paediatric care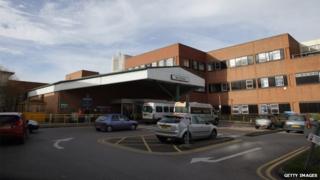 Paediatric services at Stafford Hospital will be transferred in March, campaigners have said.
Seriously ill children will instead be treated at the University Hospital of North Staffordshire (UHNS).
Campaign group Support Stafford Hospital said paediatric staff were told of the plans on Wednesday.
The UHNS Trust said it was meeting with staff and would publish its plans for the transfer of services in September.
It comes after midwives claimed they had been told maternity services would be downgraded in January.
'Rushed and flawed'
A number of services, including paediatrics, acute surgery and obstetrics, may be transferred to UHNS after it takes over the running of Stafford Hospital from November, the Trust said.
It said the moves were in line with recommendations made by Trust Special Administrators (TSA) and approved by Health Secretary Jeremy Hunt in February.
In an open letter to Mr Hunt, Support Stafford Hospital said the transfer of services was a "rushed and flawed process".
The projected timescale for the transfer of services was between two and three years, they said.
Campaigners say UHNS, which is 18 miles (29 km) away, "simply does not have capacity in place" to cope with a rise in admissions.
Trust chief executive Mark Hackett said it was "working with clinical staff across both sites" to "understand all the issues which need attention".
He said "increasing concerns about the safety and sustainability of services at Stafford" required services to be moved.
Protestors campaigning against the downgrade of the hospital have been camping outside the hospital since mid-July.