'Boob joke' Stoke-on-Trent councillor reprimanded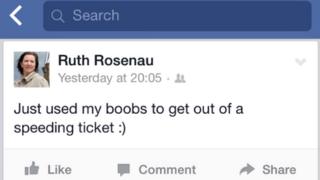 A Labour councillor has been reprimanded by her party for a Facebook post claiming to have used her breasts "to get out of a speeding ticket".
Ruth Rosenau, who is responsible for transport on Stoke-on-Trent City Council, was told to remove it by the Labour Party.
Her friend Tony Walley said there should have been more of a "dialogue" over the post.
It was part of a social media craze to raise awareness of breast cancer.
The campaign involves people posting fake comments in a bid to encourage friends to respond.
In a statement, the Labour Party said: "Senior party figures should take care when using social media, this is a case in point.
"Once again the regional office has had to send our social media guidelines to councillors in Stoke-on-Trent."
Ms Rosenau has yet to comment.
Mr Walley, an active member of the Labour Party, said social media was "really important" these days, including for charities.
He said: "It's a really competitive market and charities are always thinking in new ways about raising awareness. This was one of those ways.
"I can completely understand where people are coming from if you look at that post but that's what it was designed for - to grab your attention.
"In this case I just think there could have been more of a dialogue.
"She could have then said 'well this is what it's about - it's about raising awareness of... cancer'."
A similar social media campaign earlier in the year raised £1m for Cancer Research in just 24 hours.