'January move' for Stafford Hospital maternity care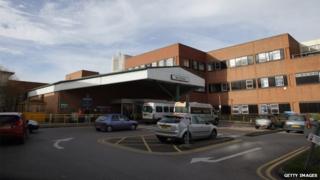 Midwives at Stafford Hospital say they have been told maternity services there could be downgraded in January.
The University Hospital of North Staffordshire (UHNS), which is due to take over the site in November, will handle complicated births.
An NHS review into whether consultant-led maternity services could stay in Stafford is not due to finish for at least a year.
A spokesman for the UHNS said its plans were still to be finalised.
Protesters said a decision to have midwives running the maternity unit in Stafford instead of doctors should not be rushed.
Lol Barnes, Support Stafford Hospital Group campaigner, said: "There is real anger, we thought no changes could be made until November after the review.
"Maternity staff are upset and many mothers booked in for deliveries are confused, upset and angry."
'Very concerned'
She said having to travel further for consultant care if there was an emergency could "be the difference between life and death for mother and baby".
The University Hospital of North Staffordshire is 18 miles (29 km) away from Stafford Hospital.
Stafford's Conservative MP Jeremy Lefroy also said he was "very concerned" and has contacted ministers asking for the review, by NHS England, to happen as quickly as possible.
In April, the prime minister's health policy adviser, Nick Seddon, said Stafford services should not be downgraded before the review was completed.
Associate medical director at the UHNS, Gavin Russell, said it was talking to staff about future plans because of "current and emerging concerns" over the safety of services at Stafford Hospital.
He said: "We take these safety concerns very seriously and, in line with the move of acute surgery and anaesthetics in January, have therefore started to look at what arrangements we might need to put in place for other services.
"These plans are still to be finalised and we await the review of consultant-led obstetrics services at the hospital by NHS England, as announced by the secretary of state in February."
Ray Salmon, from Unison, said his union remained concerned despite final details not being clear.
"Problems with recruitment and increases in demand mean decisions are having to be made for patient safety reasons, maybe faster than everyone would have liked," he said.
A protest camp has remained pitched on fields opposite Stafford Hospital since mid-July.