Nicholson War Memorial silenced for hotel guests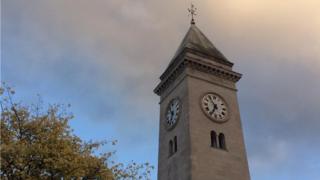 A clock tower war memorial has been silenced so nearby hotel guests are not woken up early.
The Nicholson War Memorial in Leek, Staffordshire, has been chiming since 1925 when it was built by manufacturer Sir Arthur Nicholson, in memory of his son who was killed in World War One.
The bells used to ring every quarter of an hour from 06:15 until 22:00.
The town council and Premier Inn have now agreed for them to remain silent until 08:15.
Town deputy mayor Pamela Wood said the change was a "compromise" as she claimed management at the hotel originally asked for chimes to be silenced from 20:00 as well.
She said the hotel chain had invested £6.5m in the town through redeveloping the former Talbot pub for its new venture, which opened this week.
"I'm sure Premier Inn are going to bring lots of people into Leek as it is fast becoming a tourist destination," she said.
Mrs Wood, whose husband is a bell ringer, added: "Most people won't notice the difference because there aren't that many people around at that time of the morning."
A spokeswoman for Premier Inn said: "The agreement also means that the bells can be rung an additional three times a year to mark significant occasions.
"So far the feedback we have received from residents and local businesses has been extremely positive but we will continue to monitor this.''