Crime figures down at V Festival in Staffordshire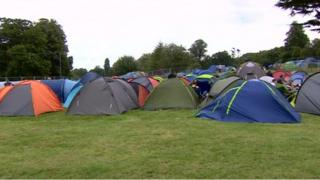 The V Festival in Staffordshire was a success with crime figures and medical incidents down by about a third from last year, organisers have said.
A total of 55 crimes were reported at the Weston Park site over the weekend, compared with 79 last year, police said.
There were 19 arrests, including for drug offences, drunk and disorderly behaviour and assault.
About 60 people were arrested at the site in both 2013 and 2012.
Acts included The Killers, Chic, Blondie and Justin Timberlake.
Supt Elliott Sharrard-Williams said: "V Festival is like dropping a small town on Weston Park, of course with so many people looking to enjoy themselves, some criminals will of course try to target visitors so it's really pleasing that the number of crimes has significantly reduced compared to previous years."
Three people at Weston Park required urgent medical help on Saturday after taking tablets known as Blue Ghost.
However, the number of medical incidents was down from the 1,300 people who sought help last year.
Ted Wilson, of Venture Event Medical Management, said: "We've been coming to V Festival since it started and this has been our quietest weekend ever in terms of medical incidents.
"Figures are much lower. We treated 871 people on site, the majority being for slips, trips, cuts and bruises, and a few minor burns.
"Twenty-one people were sent to hospital, mainly as a precaution. We have had very little drug-related issues, but a number of alcohol-related incidences as expected."
More than 500 volunteers have been helping to clear up. Thousands of discarded tents are being collected for the International Aid Trust in Preston for humanitarian work.