New move plans for Burton-on-Trent street market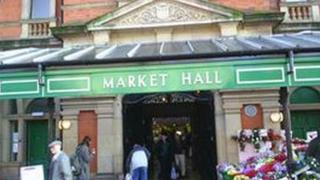 A street market could be moved back to its original site, after less than two years in its new home.
Stalls had been based at Burton-on-Trent's Market Place for several decades until they were moved in November 2012 as part of a revamp of the neighbouring indoor market.
Some outdoor traders, based at the current Station Street site, said a move back would mean less business.
East Staffordshire Borough Council said no decisions had yet been made.
Councillor Robert Hardwick said consultation was ongoing and any move back would depend on support from traders.
He said the move to Station Street had been prompted by the refurbishment of the indoor market and the new site had been chosen due to footfall.
Despite that, he said the local authority would ideally like to "consolidate" its markets, which were scattered across the town.
He said the details of the consultation were likely to be known in a week.
Some traders said proposals to move back to Market Place were designed to support a flagging indoor market and would mean less business.