Autistic boys 'shut in tiny room' at Stoke-on-Trent school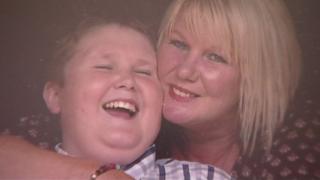 The parents of two severely autistic boys have threatened legal action against a school, claiming they were shut in a room for hours at a time.
Lawyers acting for the parents said the boys, aged about 12 and 14 at the time, were pupils at Abbey Hill School in Stoke-on-Trent.
They said they were kept in a "cupboard-sized" "calm room".
Stoke-on-Trent City Council said it had found no evidence that the door was closed for long periods.
'Door not locked'
A spokesperson said the school sought parental consent before setting up the room and, to reassure parents, it was no longer being used.
Merry Varney, from law firm Leigh Day, said while the door was not locked, it was closed and there was no handle on the inside to allow children to leave.
"Although the use of seclusion and 'calm rooms' are recognised, positive tools to use to assist autistic children, these must be used appropriately with effective safeguards in place to prevent inappropriate use," she said.
Paula Rowcliffe, a former teacher at Abbey Hill School, which specialises in pupils with learning difficulties, said she had raised concerns about the way the room was used, but these were ignored.
She said the room measured "a door's width" by about 6ft.
Day in room
"It could have been used as a store room. They were very much deprived in there," she said. "There was a bean bag and nothing in there to stimulate anybody. It was like being in a cell."
Incident reports detail Jozsef Bickerton, who is now 16, charging at the door and kicking the door handle until it broke. On 10 October 2010 the log appears to show him spending the majority of his school day in the room.
His mother Johanna Bickerton said she and other parents had consented to the use of a "nice chill out room", but had not realised exactly what it had meant.
She said: "I had this feeling in my guts that something wasn't right, but you put your trust in them to do the right thing. It was only when I met Paula that I realised what had gone on."
She said Jozsef's behaviour deteriorated after the introduction of the room and still experienced "flashbacks", despite moving to a specialist autism centre in 2011.
The city council said it had carried out two investigations, following which a specialist safeguarding officer had been appointed at the school.
In a statement, the local authority said: "We take any child safeguarding allegation extremely seriously, particularly those relating to disabled or vulnerable children.
"We investigate concerns straight away, along with other responsible agencies which in this instance included the police, child psychologists and senior managers. Ofsted were made aware of the allegations and the investigation."